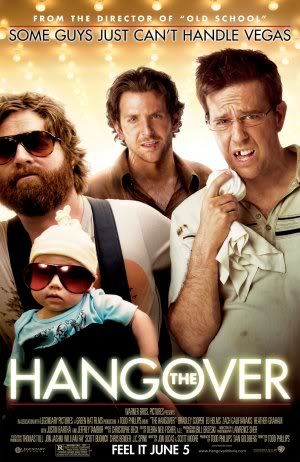 Introduction / Sypnosis:
Doug (Justin Bartha) is about to be married, so his friends — Phil (Bradley Cooper), a schoolteacher bored of the married life, Stu (Ed Helms), a dentist planning on proposing to his strict and controlling girlfriend of three years, and Doug's soon to be brother-in-law Alan (Zach Galifianakis), who is smart yet socially-inept — take him to Las Vegas for a bachelor party. Stu's girlfriend constantly checks in and calls him, thereby forcing Stu to lie to her about their destination.
The guys get a suite at their hotel, then sneak onto the roof of the hotel and toast to the night ahead. Skipping forward to the next morning, the three groomsmen awake with no memory of the previous night. They realize Doug is missing, Stu lost a tooth, there's a tiger in the bathroom, a baby in the closet, and the villa's a wreck; filled with all the activities and things they engaged in the night before. Initially they believe Doug to have gone out for breakfast, but soon worry when his cellphone has been left behind. They collect what clues they have from their little amount of memory to figure out what might have happened to Doug, with Alan finding Stu's tooth in his pocket, Stu finding an ATM receipt for $800, and a VIP parking pass. The valet brings them a police car, which they had dropped off the night before.